MyQuest
A number of our mobile iOS Developers are currently renovating and maintaining the mobile platform for a well-established medical and clinical testing laboratory business called Quest Diagnostics. Along with many hospitals, Quest is a great example of a healthcare company that has seen the future of mobile technology and acted upon it. Their mobile app "MyQuest" allows you to:
● Receive easy-to-understand Quest Diagnostics lab results anytime and anywhere
● Securely see, share and access your pertinent medical and health information
● Conveniently and easily share your information via e-mail or fax
● Schedule your next Quest Diagnostics lab appointment and find the nearest Quest Diagnostics Patient Service Center location
● Schedule and receive medication reminders
● Easily integrate and populate Withings body, weight, and blood pressure cuff data
The Challenge
Quest Diagnostic patients needed a new medium for making an appointment, procuring and keeping track of lab reports, and sharing health information. This prompted the dire need for a mobile technology solution to carry out all these activities in a more efficient manner.
The Solution
Many Software Merchant Inc. iOS Developers produced the iPhone and iPad application(s) using the latest Swift version for Quest Diagnostic patients. Patients are able to view their lab reports, make an appointment, pay bills & seek communication with medical professionals, all through the myQuest mobile application. And all of these features are being accessed without the use of any internet service, hence the name of the back-end "Online - Offline" system. Even when information has been written down in offline mode, it is saved on a central SQLLite Database, using the internet.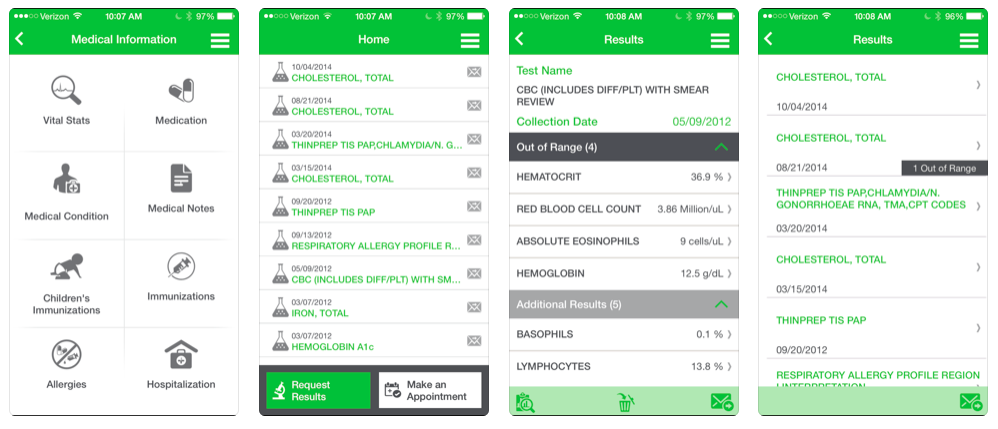 The Benefits
Along with saving time and paper, this innovative mobile application provides a cost-effective and efficient platform to safely store important data for labs and patient profiles, digitizing modern healthcare practices. Once patient information from the app has been shared and saved onto the centralized SQLLite Database, the Quest Diagnostic patient is able to access and review these reports anytime and anywhere, even without WiFi access. Accessing your healthcare information has never been easier.